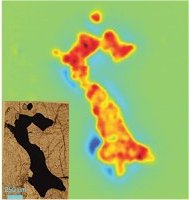 Lines of activities:
Instrumentation for Magnetic Characterization of Materials;
Development of Magnetic Sensors coupled to Optical Fibers;
Non-Destructive Magnetic Testing.
The Instrumentation and Magnetic Measurements Laboratory develops new magnetic instruments and sensors with the objective of measuring magnetic fields generated by a wide range of materials: from magnetic nanoparticles linked to biological agents, magnetic minerals present in terrestrial and extraterrestrial rocks, to metal parts containing cracks and corrosion. We aim on developing instruments based on SQUID superconducting sensors, sensors with properties of giant magnetoresistance and tunnel (GMR, TMR), giant magnetostriction (GMM). We also carried out research in ​​magnetic sensors coupled to optical fibers with Bragg networks and Fabry-Perot cavities. Through the measurement of magnetic fields, we study how to obtain quantitative information about the source that generated them, for example, the mass of biological agents bound to the nanoparticles, the magnetization of the minerals in rocks and the geometry of cracking or corrosion of damaged metal parts.